Pressure makes diamonds.
It's a pretty famous phrase, one that dates back to 30,000 B.C. (Don't quote me on that). As you will recall, it was used in a resignation manifesto by the famous philosopher, and one of my personal heroes, Sam Hinkie.
That's what this week is: pressure.
Week 13, final week, do or die. If you're like me, you need a win and plenty of help around your league to make the playoffs. It's up to you to set your best lineup, and get into the tournament.
You may already know your lineup, but there are a couple fringe guys you just don't know if they are going to be enough to push you into the playoffs. I'm here to tell you who exactly, (or exactly not), to play to get you into the final 4, 6 or 8.
The time to tinker has come and gone, it's time to assemble the perfect lineup.
"Give me six hours to chop down a tree and I will spend the first four sharpening the axe." – Abraham Lincoln" – Sam Hinkie.
The axe has been sharpened, let's cut down the tree.
WHO I WOULD START
Austin Ekeler, LAC RB
No Melvin Gordon for a while, which means you can expect Ekeler to produce like a top running back this week. He already is productive without being the main guy, and now that Gordon, who gets nearly 30 touches a game, is done for a while. Ekeler is going to shine. I'd expect over 100 yards and a touchdown, with at least 5 catches. He'll be a beast.
WHY I'M WRONG:
Ekeler gets shut down, just like he did last time he was the feature back this year. And you get fired from your real person job for screaming in the office that you should have left Mark Ingram in.
Aaron Jones, GB RB
4 touchdowns the last 3 games and a bottom feeding Arizona up next, Jones will continue his run to the list of better running backs in the NFL. He'll go off Sunday. Simple as that!
WHY I'M WRONG:
Jones' streak of touchdowns ends, Jamal Williams gets the carries after getting a hot hand early, the Packers have to abandon the run to try and save their season, all while ruining yours in the process.
Josh Adams, PHI RB
The Eagles FINALLY have a feature back this season. 12 weeks in and it's Josh Adams, who had a pretty stellar game as soon as I said to my Dad that he's far too slow to play every down. With the biggest game of the year Monday night, look for the Birds to keep the run game going with Adams to make the last month of the season an absolutely heart attack for all of us.
WHY I'M WRONG:
Because he's an Eagle that isn't named Ertz. That's why.
WHO I WOULDN'T START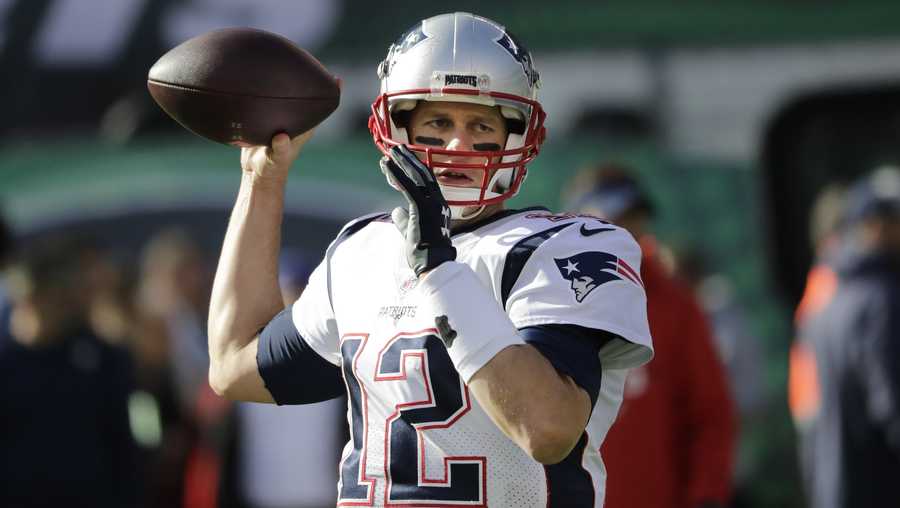 Tom Brady, NE QB
Hear me out. Do not yell at me if he goes off and you benched him. I'm doing it too. Granted, I have nothing to lose, but the stats back it up. He's not a top flight fantasy QB anymore. In ESPN he's 14th, he hasn't eclipsed the 20 point mark in over a month, and historically he stinks in fantasy after week 11. The Pats run it more on top of that. All I'm saying is that there are better options.
WHY I'M WRONG:
I'm not. Foles caught it, Brady didn't.
Carlos Hyde, JAX RB
In terms of trades this year, Hyde is among the biggest disappointments. Yes he was insurance, but he's still a very good player that hasn't contributed to levels he's accustomed to. Even with Fournette suspended for his brawl in Buffalo, it's clear Yeldon is the guy behind Fournette. Expect that to continue Sunday, don't look for Hyde to produce.
WHY I'M WRONG:
Well, this is on you for not learning your lesson and listening to me. Yeldon doesn't play and Hyde gashes Indy's defense for a touchdown while Cody Kessler leads them to victory.
Larry Fitzgerald, ARI WR
Fitz is one of the best ever. That's not new, nor does it change as he ages. Just don't play him this year. His production has picked up of late, scoring 5 touchdowns the last 5 games. But with only 4 catches the last 2 games and with a Green Bay team desperate for a win, I would expect a slow day. Go with your better option for your flex.
WHY I'M WRONG:
Lol, Fitz is one of the best ever. That's not new. He's scored 5 touchdowns the last 5 games. Why did you not start him????? Dumb dumb strikes again. Your seasons over. Enjoy the toilet bowl.
It's been a wild regular season, but the real season is only beginning. Well, for some of us. (Maybe me…….maybe) Go win your games and meet me back here next Wednesday. Or don't. I don't make the rules.
Good luck everybody!
Like that renowned philosopher's one disciple Wroten of House Tony teaches us, Trust the Process.