As the Sixers continue to fight for top seeding in the Eastern Conference after the acquisition of Jimmy Butler, this picture has resurfaced on the twittersphere:
This picture belongs in a museum. I am so serious. This was the Sixers roster only a mere FOUR years ago. In a short four years, the Sixers went from what is pictured above, to the potential title team we have now.
And they say the process didn't work….LOL.
Let's break down this All-Star team, and see where they are now! We're going to just go from left to right.
KJ McDaniels
Good ole KJ. He was a treat for those 6 months he was a Sixer, I guess. He hasn't come close to topping his stats from his rookie season before he got traded to the Rockets. He has since played for Brooklyn and had a brief stint in Toronto as well. He currently plays for the Thunder's G-League affiliate the Oklahoma City Blue.
Henry Sims
Sims is a personal favorite of mine. We were once friends on Snapchat (not to brag). Following his All-NBA level stint with the little guys down at the Center, he, like McDaniels, had a brief stint with Brooklyn. He has not been in the NBA since 2016. Pour one out for the Georgetown legend!
Nerlens Noel
A process folk hero. Then again, aren't all of these Hall of Famers heroes? The answer is yes. Anywho, Nerlens, who was the prize (at the time) of the famous Jrue Holliday trade all the way back on the first night of the process back on June 27th, 2013, played for the Sixers until the 2016-2017 season. He was shipped to Dallas for Justin Anderson and a fake first rounder where he flamed out a little (S/O bench hot dogs). Nerlens is currently on the Thunder as their backup to Steven Adams, currently playing out a one year deal before returning home next year to round out the bench for next years repeat campaign.
Lord Robert Covington
He was brought here to lose they said, he's an overrated defender they said, "Tyler, he sucks, you need to shut up" they said. All Covington did was turn into a starter on a playoff team, a 1st team all defender, a top flight "3&D" forward, and the major centerpiece in a trade for a superstar. One of the biggest success stories of the process, Covington currently starts on the Timberwolves, where he'll probably be first team all defense…again.
Tony Wroten
The originator of "Trust the Process". Wroten was a castoff from Memphis. From there, he came here, dazzled us with countless highlights, had a triple double in a real game once…I'm not kidding, I seent it live! He once famously said, "I don't know how I'm supposed to mentor MCW, he's older than me." He was awesome. He played with the Knicks for a little after that, but hasn't been in the league since then. He's bouncing around the G-league now, most recently with the Rio Grande Valley Vipers. Speaking of MCW…
Michael Carter-Williams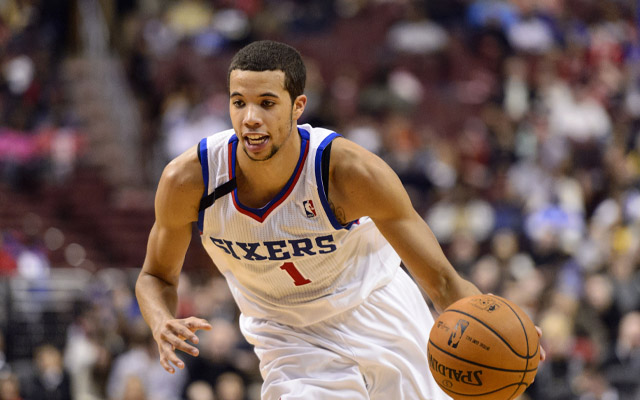 That's 2013 rookie of the YEAR Michael Carter-Williams. What a year that was. Since that illustrious season he has done…uh…well…he's still in the league! After winning ROY he was traded mid-season in 2015 to Milwaukee for a future Lakers pick, which has since turned out to be the sesame seed that nearly killed Zhaire Smith and a 2021 unprotected pick. He's played on 75 teams, currently with the Rockets, where they are currently underachieving by an obscene amount.
Jakarr Sampson
Jakarr! My guy, I had absolutely no idea who he was coming out of St. John's. He showed up, flew around for a little while, made zero threes, and then he left. He played a little after the Sixers, with stints in Denver and Sacramento. He is currently playing for the Bulls G-league affiliate.
Furkan Aldemir
FURK V1! To be honest, I have no idea what happened to him or where he is and I didn't even look it up. He was here for what felt like a split second, I thought he was the second coming of Larry Bird. I was misled. I hope Furkan I: The Furkan Menace is out there doing great!
Jason Richardson and Jason Richardson's Hat
Good ole Jrich. He had seen it all as an NBA player when the Sixers got him. He played for 4 other teams prior to joining the Process, and was actually added when the Sixers thought they secured a different superstar, professional Bowler Andrew Bynum. Quick shoutout to him, without him, there is no process. But yeah, Jrich, he retired with the Sixers, and I have his autograph! Again, not to brag or anything.
Jerami Grant
Jerami is a personal favorite of mine. He was thought of as just another filler on a team tanking for picks. Fast-forward 4 years later and Jerami Grant is an important part of a perennial playoff contender in Oklahoma City, otherwise known as Process West. He's become a starter this year, and has turned himself into an exceptional player. Found by, guess who, HINKIE.
Hollis Thompson
6th in Sixers history in 3 point percentage. Bet you didn't know that one..did you? Hollis was a powder keg from the three point line for the Sixers. Well, not really. But still, he was at least semi-serviceable in a time where there were far and few between. Hollis flamed out after one measly season with New Orleans, but he's still forever in our hearts.
Joel Embiid
Well…I think you all know.
Luc Richard Mbah a Moute
First off, I want everybody to give a nice shoutout to our guy Luc, because he was the one who discovered Joel Embiid in their mutual home country, Cameroon. He also was a serviceable rotation player in his year here. He's been in the league for 11 years now, playing for 6 teams, currently in his second stint with the Clippers. He was a nice vet for a team that definitely needed it.
The picture is an important part of process lore, and it reminds us of some of the long nights and times that maybe weren't so fun. It's always good to remember during the good times that you never forget where you came from.
Trust the Process.