Playoffs?! PLAYOFFS?! That's right, playoffs.
It's that wonderful time of year, the fantasy football playoffs. Friendships could end quicker here than a game of Mario Party 3 on the N64. Where boys and girls become men and women and ordinary folk are crowned champions.
Whether you've got a bye or just squeezed into the playoffs, the time is now. Side note big shoutout to newest 789'er Chris for losing to get me into our tournament.
There's injuries, there's tough situations going on in the league, and there's games to win.
Without further ado….eskettit.
WHO I WOULD START
Spencer Ware, KC RB
Obviously with what happened with the abysmal former running back for Kansas City, a new runner has emerged. Spencer Ware, who was very productive in his opportunities in years past, already had a score since his re-emergence, and looks to continue to build on his first start. KC has Baltimore this week for a big game for both teams. Look for Ware to produce.
WHY IM WRONG:
Ware is shut down by the Baltimore front. Mahomes throws even more than he originally was going too, Ware scores less than 5 points and you lose to the guy who made the playoffs with the losing record.
Jeff Wilson Jr., SF RB
So Jeff Wilson is…well, to be honest, I have no idea. He has stepped into Briedas role the past few weeks and produced extremely well. Wilson is the latest example that shows that Kyle Shanahan could find a way to make me productive in his offense. If Brieda is out, look for a heavy dosage of Wilson, who will score this week.
WHY I'M WRONG:
Lol why did you start a dude you never heard of, let alone somebody who didn't play til last week. You don't deserve to be in the playoffs. You should be in the toilet bowl.
Tarik Cohen, CHI RB
If Cohen already isn't a regular starter for you, well, I am not sure what you're doing. Cohen proved last week that he belongs in your lineup no matter what situation you're in or what his matchup is, he is so dangerous with the ball and deserves to be respected as such. Bears with a big one against LA this weekend, it's Cohen's time to shine.
WHY I'M WRONG:
Well, like I said, it's LA. Aaron Donald literally eats Cohen and he gets 0 points. That might happen, did you see that picture of Donald from last week?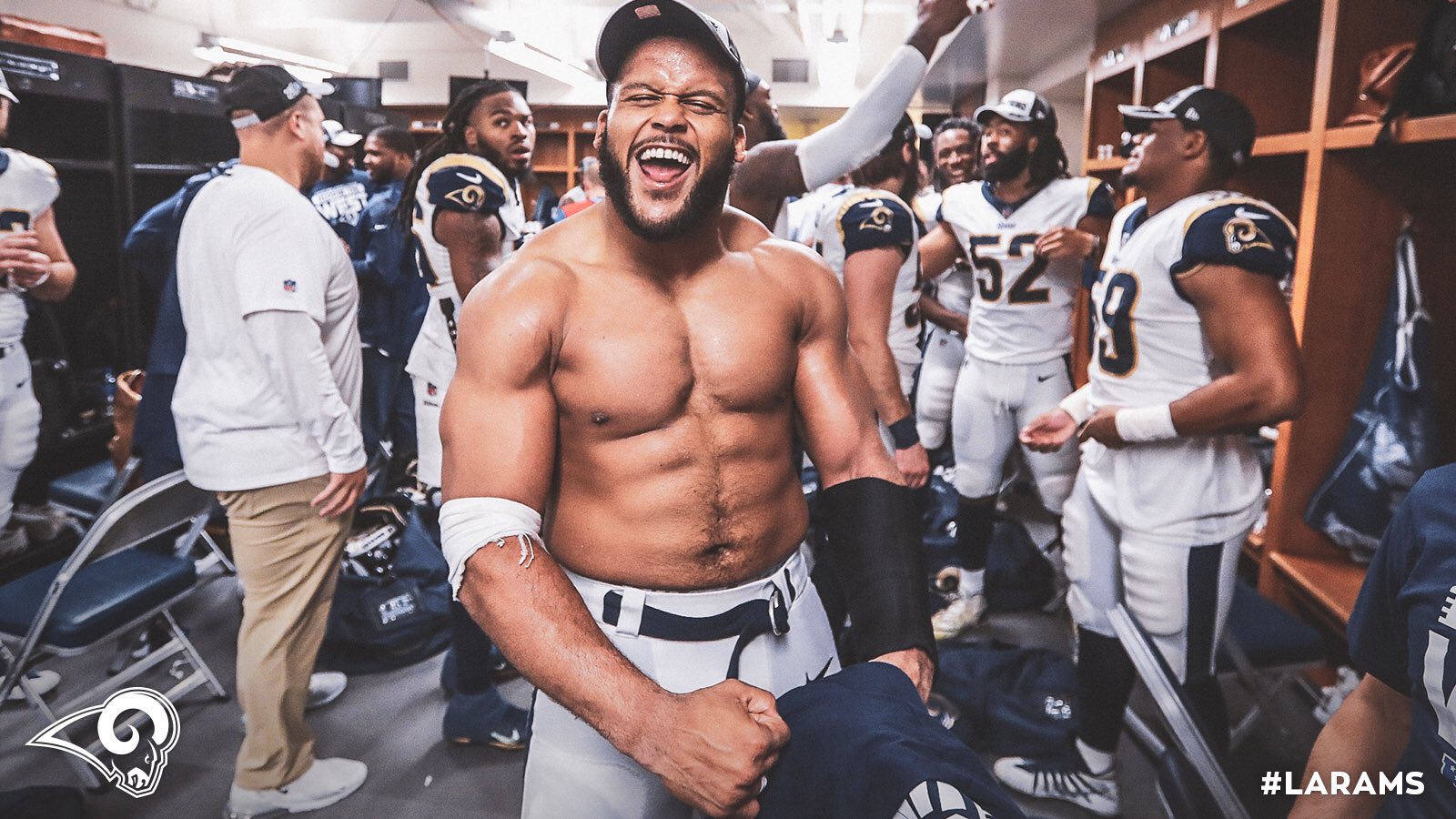 That guy is HORRIFYING. If I saw him running at me I would be afraid too.
WHO I WOULDN'T START
Rob Gronkowski, NE TE
The Pats keep winning real football games. But we're talking about what really matters, fake football, where he has not been so good. Guess how many times he has gotten above 15? That's right, 1. If you can, find a different option. I don't expect Gronk to produce.
WHY I'M WRONG:
I cannot believe you would think Gronk won't figure it out just in time for playoffs, you know darn well he's getting into the end zone this week. Why the heck are you sitting him, SMH.
Alshon Jeffrey, PHI WR
Jeffrey's production has fallen off a little bit lately. With Golden Tate starting to get more targets and Ertz being Ertz, Jeffrey's targets and receptions are down. I'd expect that to continue. In another do or die for our beloved Birds, look for Cowboy killer Golden Tate to thrive this time around and Josh Adams to get the ball a ton.
WHY I'M WRONG:
Jeffrey is not going to be held low again. Eagles found their groove the last few weeks, Wentz finds Alshon in the end zone twice. Birds are back, you are not.
Tevin Coleman, ATL RB
I think we gotta put Coleman on milk cartons. I have NO idea where he has been the last few weeks. 14 carries for 14 yards the last two games. What the heck is that?! He has been so much more productive all year, but with the Falcons reeling, I don't expect his production to return this weekend. Coleman is going to sputter again.
WHY I'M WRONG:
The Packers are up next, and they might be the only team in the NFL reeling faster than Atlanta, so if anybody is going to get Coleman back up and running, it's going to be Cheeseland.
This is one of the most fun fantasy weekends of the year. All of your blood, sweat and tears are all on the line. For all of you playing in your toilet bowls as well, I feel you. I'm in one this year as well, for the third straight year. It's time to start the scouting for next years draft. August is just around the corner!
For the playoff goers, good luck, and may the odds be ever in your favor.
See you next Wednesday!