If you survived to see another week, congrats, you did it! If not…so close, and yet, so very very far. Time to clean out the lockers, delete the ESPN app (or yahoo, I won't judge), and forget about it until August. Or, if you're like me and my friends, download it again in March for fantasy baseball then delete it again once you give up on that in May.
As for the winners, it's on to the semifinals, the competition is stiffer, the weather is colder, and it's time to fight for that illustrious title spot. Making it this far is no small feat. Whether it's an 8 man, 10 man or 12 man league, being in the final four always feels great and it gives you a sense of accomplishment and bragging rights for the summer.
But, we're not satisfied with just the final four, there are no participation trophies in this column. We want championships, as our friendly neighborhood Meek Mill would say.
Let's find those sleepers to push you into the title game, here we go.
WHO I WOULD START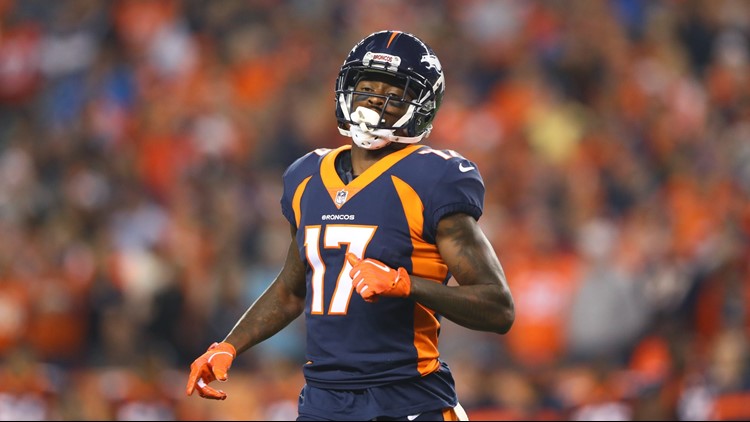 DaeSean Hamilton, DEN WR
Not a great look for Denver after Sunday's loss to San Francisco. But, they're not quite dead yet. While not everybody came to play, Mr. Hamilton did. 7/47/1 TD is a solid split for a first game with significant playing time. Look for that production to keep up as Keenum looks to find a consistent number 1 target with Sanders done.
WHY I'M WRONG:
Hamilton is still a rookie…and all rookies will crumble when somebody attacks them. Okay, that last part is a bit dramatic, but you'll still be the big dunce once you lose because you put DaeSean Hamilton in your lineup when you've got big bucks on the line.
Adam Humphries, TB WR
Humphries wasn't spectacular last weekend, but he produced, and he was targeted. As has been the case all season, Jameis, or Fitz, or Brad Johnson, or whoever else is playing QB for Tampa, will look to get him the ball. The volume will be there no matter who they play.
WHY I'M WRONG:
Well clearly somebody didn't watch last week. Humphries ain't do nothin', and your waiver wire pickup lands you on the sad loser hill of fantasy.
Josh Allen, BUF QB
Josh Allen has been a revelation at running back for Buffalo this season. I am serious. More rushing yards in a three game span than any other QB ever, including the great Mike Vick. Even if he's stopped in the air, he's almost guaranteed for 80 yards on the ground. That'll continue. Run, Josh, RUN!
WHY I'M WRONG:
Lol, nothing like starting a rookie quarterback in Week 15 of the fantasy season with a title game on the line. Oh, you still need an explanation as to why you didn't make it? Well…you don't deserve one.
WHO I WOULDN'T START
Every Patriots Running Back
I can't remember any group of players being this frustrating since, oh wait, this whole Eagles team. Well, fantasy wise anyway, this backfield drives me NUTS. There's 45 of them. You never know which one is gonna be the guy that day, or which one is gonna play well. If you have multiple (like me) you're going to have to guess. That is not fun.
WHY I'M WRONG:
They're the Patriots, they'll go off. C'mon, didn't you read my stupid Gronk passage last week? That worked out real well.
Michael Gallup, DAL WR
If I am not mistaken, Gallup might have been dusted by Thanos for the way he's been producing. Ever since Amari Cooper showed up he's been MIA. He's got talent, and he's on the field, he's just not getting the rock. That'll continue. Cowboys are pushing for the playoffs, and through my puking and eternal darkness you'll find Gallup getting 2 catches for 27 yards.
WHY I'M WRONG:
The Cowboys are hot and Gallup will be a big reason why that continues this weekend. And wow look at that I'm crying again.
Chris Thompson, WAS RB
Thompson has been a major disappointment after being a beast last year. Granted, he's been hurt almost all year, but everything about Washington this season is rough to watch. Whether you drafted him, or traded major capital to get him, it hasn't gone well. If you're riding on him this week, you're probably playing for 8th place and not for a chance at eternal glory.
WHY I'M WRONG:
I'm fairly confident about this one. The Skins have…uh…Josh Johnson in at QB. HAIL!
There's nothing like being on the cusp of the final game, the feeling that it's so close you can taste it. There is also nothing quite like feeling like you're free falling with a sense of emptiness inside.
Maybe not quite that dramatic, but this weekend is quite the ride. Enjoy it, live or die by your decisions at 1:04 PM Sunday, and go get that bread.
See you all Championship week.