Tis the season! The season where all of your favorite websites and people on twitter are rambling on about the Sixers need to make a move and who they could go after.
Well, move over people who are doing that, because it's my turn to get in the car!
I want to break down 5 REALISTIC people for the Sixers to potentially acquire to boost some depth at key spots that will help them down the stretch and in the playoffs. While I would love to make another splash (Brad Beal, Kemba Walker, etc.), I don't see that happening whatsoever.
These guys will be the glue type guys that specialize in something that will help the Sixers death issues going forward. Here we go.
5. Noah Vonleh, NYK F
Vonleh is a guy that has really turned it around this season. A lottery pick in 2014 and on his 4th team, Vonleh got a one year prove-it deal, and he's proving it. Averaging about 9 and 9 a game in 26 minutes, he has really put together an impressive campaign. He would be a great bench big for the Sixers who lack much of a presence behind Joel Embiid.
What it would take: Sixers 2019 Second round pick from Milwaukee or Sacramento (more favorable of 2)
4. Rodney Hood, CLE G/F
Rodney Hood is somebody that could have potentially been had in the offseason, he has had a fairly decent year, with 13/2/2 splits, respectively, he is shooting 37% from deep which is what the Sixers could certainly always use. Cleveland is a full blown dumpster fire so i think they could get him on the cheap for any type of asset before he leaves in free agency.
What it would take: a Combination of two second round picks
3. Wesley Matthews, DAL G/F
Reuniting Wes Matthews with his Marquette brother Jimmy Butler would not only boost morale, but add another dangerous wing for the Sixers. With Dallas teetering on the cusp of fighting for a playoff birth to falling further down in the West, Matthews could be had. He's an expiring deal, but he makes a bit of money, so it might take some tinkering to acquire him. He's a near 40% three point shooter and plays decent defense. He certainly isn't the player he once was, but he would be quite useful for a playoff run. The money is tricky, so the Sixers would have to get creative into getting Matthews in.
What it would take: Wilson Chandler, a combination of Second Rounders, and a third team to make the money work.
2. Jeremy Lin, ATL PG
Lin is somebody the Sixers have gone after before in recent years, and is somebody that could be available to be had again. Well beyond the Linsanity days, Lin is a serviceable backup point and more than capable of running the second unit at this point in his career. He'll shoot threes at an OK clip (35%) while running the floor and facilitating (3.6 APG). He'll be a free agent, so he'll be a rental. Shouldn't take much more than an asset and Chandler to make the money work.
What it would take: Wilson Chandler, Furkan Korkmaz and a 2nd.
1. Dewayne Dedmon, ATL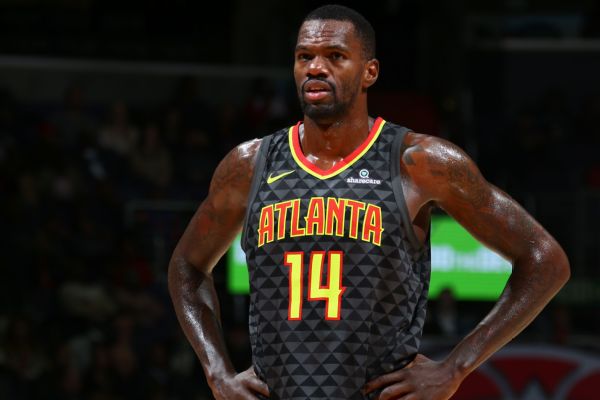 The prodigal son returns. I think this should be the Sixers number 1 option in the trade market. He is an extremely reliable center, has been in the league for a while, can spell Joel and give him a break for longer than 3 minutes, and pick up some of what he does when he goes to the bench. He has great averages in limited minutes (9.8/7.6/46.7 FG%) and would be a great addition to the bench that desperately needs a presence outside of Mike Muscala and Jonah Bolden on the inside. His cap hit is around 7 million. The Sixers have a small trade exception with the Butler trade, a little over 2 million to be exact, so look for them to use it. If the Sixers are going to poach anybody, Dedmon is the guy.
What it would take: Furkan Korkmaz, Justin Patton, and a heavily protected 2020 1st.
This is shaping up to be quite the interesting trade and buyout season for the Sixers. With about 9 guys available overnight (not counting the two way guys and the 10 day contracts), this Sixers team could look mighty different in three weeks.
Any ideas on who the Sixers might go after? Is my math really wrong on the salary cap? Let me know in the comments or on twitter @tdowney_!
*all stats courtesy of NBA.com