To quote a good friend of mine: oooohhhhhh MANNNN.
The season is FINALLY here! It has been an unbelievably long summer, and I can't thank the heavens enough that it's over. (If you would have told Tyler Downey circa 2005 that I said that I think young me would go into a coma).
The Phillies stink, they're getting blown out as I write this, so I'm looking forward to a sport that I'll be able to root for a winner (don't come back to this when this season doesn't go as planned.)
It's time for another Eagles Super Bowl run, lots of Sunday crockpot meals, hungover beers, and FANTASY FOOTBALL. I hope everybody's draft went well except literally everybody I'm in a league with because I am going to win. It's going to be a long season for my friends and family as I'll be annoyed at my team by 1:07 PM.
HOWEVER, that isn't going to happen this year because I have spent the last 7 months doing absolutely nothing but studying fantasy patterns, player workouts and team building and I have to say, I am even more unqualified than I was last year.
Does that make sense? No, but why should it!
Also, I have seen Avengers Endgame 70 times so believe me, I know what I'm talking about.
To set week 1 up, obviously I'm gonna like Alvin Kamara, Saquon Barkley and Christian McCaffrey, we will check on the more mid range guys who I think can win you this week.
Ok, let's get to it, shall we?!
WHO I WOULD START Austin Ekeler, LAC RB
Melvin Gordon's disappearance opens up the opportunity for some fresh blood. Now, Ekeler isn't the freshest of blood, he's been around for a few years. However, he is a great okay when Melvin Gordon isn't playing. Now with Gordon out for what could be a lengthy period of time, this job is Ekeler's to lose. He has Justin Jackson on his heels but until he takes him over or Gordon comes back, stick with Ekeler.
Curtis Samuel, CAR WR
I was big on Curtis Samuel last year, and guess what, Cam Newton has to throw to SOMEBODY. There's CMac, Greg Olson until he gets hurt, and DJ Moore. That's it. There will be targets for Samuel and going into year 3 there is real opportunity here to shine. If you picked him, start him.
Lamar Jackson, BAL QB
Dude is going to be a top 5 quarterback this year. Even if he's like a 10% better passer than he was last year. He is incredibly dynamic and if you got roasted by your buddies for taking him in your draft in the 10th round do not fret, you'll be sitting pretty in week 9/10 when it matters most.
I am not bitter. I swear.
WHO I WOULDN'T START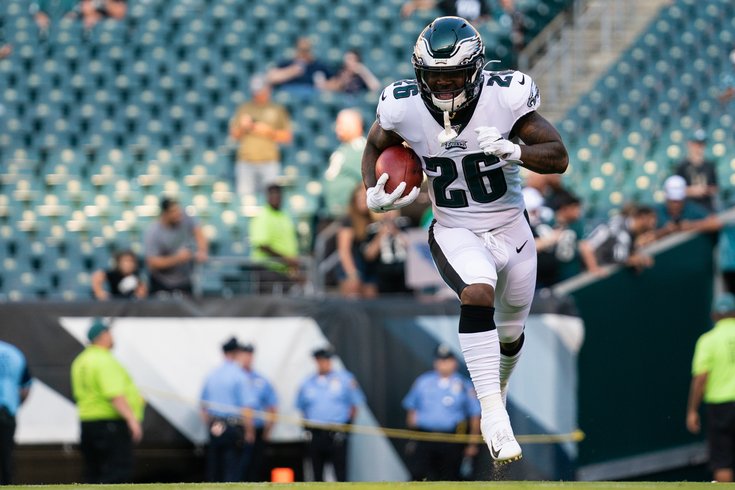 Every Eagles Running Back
Let me start by saying the Eagles have an incredibly talented backfield, I like all of them a lot, and I think the 4 of them will be dynamic together. Combined costing the team 4.9 million dollars, they're on a bargain and will be a vital asset to the team in their pursuit for ring number dos. However, I do not trust them in fantasy. All of them will get carried and if Doug goes with the hot hand during each game, it will be too difficult to pin who will do well. Therefore, I'd find other options on your recently drafted squad.
Josh Gordon, NE WR
I have been a big Gordon guy ever since the crazy 2013 season he had. He has never been close to that obviously with the battles he has had to face, but Gordon is playing in the same offense for the second consecutive season and is due for a good run. I just don't think it begins this week against Pittsburgh. He missed much of camp and is still getting in game shape. He'll be a problem this year, just not Sunday night.
David Njoku, CLE TE
There might not be many people at his position more talented than David Njoku, but he hasn't quite put it all the way together. I had him last year, and one week it was awesome, and then the goose egg he gave you the next week was incredibly frustrating. I think he'll make big strides in what should be a much better Cleveland offense. But with so many weapons in that offense, it may not come together quite yet. Try another option if you have one.
We're into Week 1 in what should be a wild season. I can't wait to win all my matchups this weekend on my way to another year of championships.
I'll see everybody here next week for when that absolutely does not happen.