I'd like to start off this week's corner with a quote from one of the most iconic television characters of all time: Hannah of House Montana. She stated, "Everybody makes mistakes, everybody has those days." And guess what, I had one of those days last weekend.
I want everybody to do me a favor, and please ignore my predictions from last week. I was young, naive. and didn't know what I know now, which is infinite knowledge. Which you should feel good about, because I do too.
The comeback is always greater than the setback, as The Situation always says, and this week is certainly no different. We're BACK. For real this time.
I've got 6 surefire picks for everybody this week that everybody is SURE to win. I think. I hope.
Let's do it.
WHO I WOULD START Nelson Agholor, PHI WR
Well….he's healthy enough to play. In all seriousness, outside of the drop, Agholor was productive against Atlanta. 7/104 and a touchdown is a good split, and against Detroit, Wentz is going to need him. I know he trusts him and so does Pederson. Agholor is going to get the targets. He's going to produce.
WHY I'M WRONG
The last time I had Agholor in here it was magical. I'm doubling down again. I am not wrong.
David Montgomery, CHI RB
Montgomery is going to get rolling, and it's going to start this week. He had his first career touchdown against Denver this past weekend and I think it continues. Washington stinks, out loud, they're going to let up yards and even with Mitch Trubisky leading the charge (hooray?), the Bears offense will move the ball, and it will be Montgomery doing it. Start him. Play him. You won't regret it.
WHY I'M WRONG
Mitch Trubisky is leading his team on Monday Night Football. The Redskins will stack the box. Curtis Samuel scores 12 on your bench while Montgomery scores 2 and you lose by 6. Can't say I didn't warn you.
Greg Olsen, CAR TE
Olsen after being hurt for what felt like a mere 3 decades, finally looks a little bit like the player he was before the foot problems. He's been a go to for Cam Newton who is struggling mightily (I will get to that in one second.) But Olsen this week has a favorable matchup against the Cardinals, and should be a good play whether it's Cam, Kyle Allen, Will Grier or Kerry Collins. Go ahead and start Olsen this week.
WHY I'M WRONG
Cam is hurt and you trusted Kyle Allen, Will Grier or Kerry Collins to get Olsen the ball. And oops he got hurt again. Way to go.
WHO I WOULDN'T START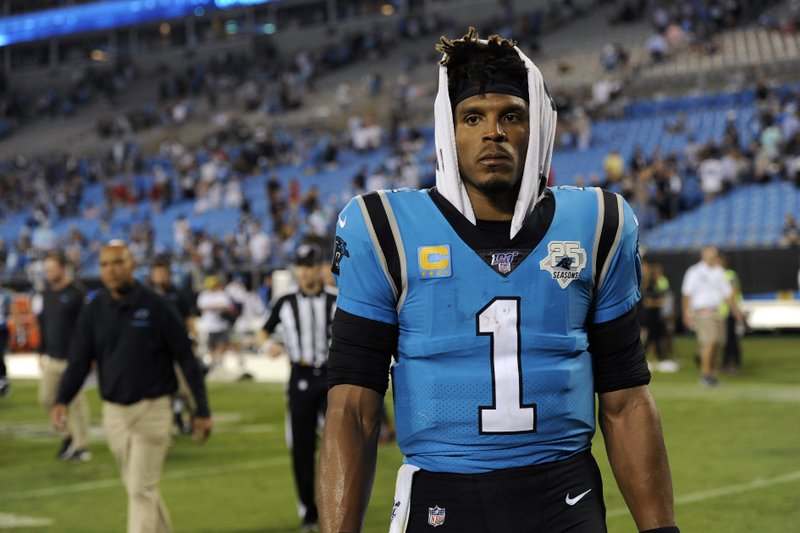 Cam Newton, CAR QB
It was nice of Troy Aikman to finally admit late in the game last Thursday that Cam looked off. Whether he's hurt, losing a step, whatever, something doesn't look right. So, even if he IS playing, I would steer clear of him. He is costing your teams wins, and there is another quarterback on the waiver to replace him. Josh Allen, Jacoby Brissett, Uncle Rico, whomever. Start them instead.
WHY I'M WRONG
I'm not. Moving on!
OJ Howard, TB TE
Look, I like eggs. Scrambled, bacon egg and cheese's, all great stuff. Goose eggs from your starting tight end, not great! It appears Howard has disappeared faster than Thanos did after taking the big L in the Battle for Earth in Endgame. Don't start Howard until he proves he can be a contributor.
WHY I'M WRONG
They play the Giants. The Giants are bad. Real bad. He scores a TD because of course he does.
Duke Johnson, HOU RB
I don't know what it is. I haven't trusted Duke Johnson for about 5 years now. And guess what, spoiler alert, it continues! The Texans struggled last week to get much offense going but it appears that Carlos Hyde is the go to back in the backfield, and the more he gets acclimated with the team the more carries he'll get. I would stay away from Duke for the time being, that time being all year.
WHY I'M WRONG
This week is FINALLY the week Duke goes off. Because of course he does. The Chargers let Kerryon Johnson get a receiving tuddy last week, and that continues this week.
That'll wrap up episode 3 of the Corner this week. We can't possibly do any worse than we did last week so we are due for a hit this week.
…..or not. Definitely not. Who am I kidding, we're going 6/6 because I said so.
See everybody next week!